Could Kevin Hart be the new "King of Comedy?" The comedian recently broke one of Eddie Murphy's long-standing box office records.
Get the deets inside and watch Michael Jai White and Tasha Smith reprise their Why Did I Get Married? characters in a sneak peek for "Tyler Perry's For Better or Worse" show.....
Comedian Kevin Hart, who'll be starrng in the film adaptation of Steve Harvey's advice book Think Like A Man, broke Eddie Murphy's box-office record when his comedy tour stopped through L.A recently.
When his 90-city comedy tour dubbed, "Laugh At My Pain" rolled through L.A.'s Nokia Theater, he became the first African-American comedian to net over $1.1 million for two-day ticket sales....bumping Eddie Murphy from the top slot.
He discussed his feat with Black Voices saying,
"I try not to think about it. It's huge, but I'm one of those guys who tries to stay ignorant to his success," Hart recently told The Huffington Post. "When you think about it, that's when you get caught up in the things that make you think that you're above the world. When you don't acknowledge it, it's easier for you to maintain a humble mindset and continue to work hard and try to achieve all of these goals that you set for yourself."
Congrats to Kevin!
And coming to TV ths fall.......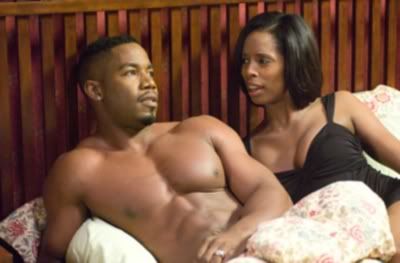 Michael Jai White and Tasha Smith will be bring their popular characters from the Tyler Perry film Why Did I Get Married? to the small screen this fall via TBS.
Debuting on November 23, Michael and Tasha play Marcus and Angela, a married couple with a "few" problems. The show itself is shot to look like a movie and blends both drama and comedy (and of course a slice of Jesus). Other actors in the series are Cocoa Brian, Brad James, Jason Olive and KiKi Haynes.
Tyler Perry both the writing and directing the show.
Watch a trailer for the show here:
Source: http://theybf.com/2011/08/31/sneak-peek-michael-jai-white-tasha-smith-in-for-better-or-worse
Aki Ross Alecia Elliott Alessandra Ambrosio Alexis Bledel Ali Campoverdi Ali Larter