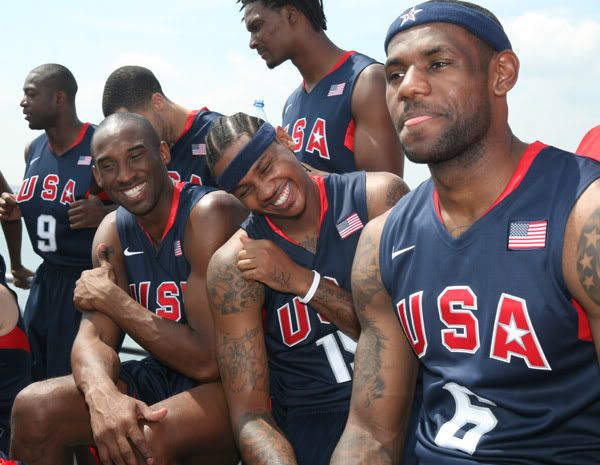 Well this is interesting. In order for the NBA players to keep up their side of the lock-out standoff and not cave to what the billionaires want, the multi millionaires in the league like Kobe Bryant & LeBron James have offered up loans from their own pockets to players in need of money during the lockout.
Ballers needing "help" with their bank accounts already? Some interesting info inside...
Looks like this NBA lock out is going togo on for longer than folks expected. So the uber rich ballers are pitching in to make sure the NBA players stand their ground for their demands. Seeing that they may be headed into winter with nan a paycheck, apparently there's a fear NBA players will give up the standoff in order to get their bills paid. But don't many "ballers" spend their money on unnecessary ish and claim to have so much mula...enough millions that should get you through a few months?
National Basketball Players Assn. Executive Director Billy Hunter told the L.A. Times yesterday what this standoff is all about:
What would you define as the biggest holdup to an agreement?

"The system. The players are insistent there be no hard salary cap. If they [owners] keep pushing for the type of salary cap they've indicated, we'll give up any percentage to share in the league's future growth. We've already said we won't accept that proposal they've given."

Several of your players are multimillionaires who aren't exposed to the physical rigors other athletes are. If the fans are going to start choosing sides, why should they support the players?

"We have some of the same issues now that so many individuals in this country experience. Of course, the difference is the pay scale. But the system we operate under is pay for performance. These players are the widgets. They're replaceable. They face competition for their jobs. They do endure injuries, their bodies take a toll. The back end of some of their lives will be difficult."

So, the players have saved money for a lockout fund?

"I haven't heard one guy yet say anything about their financial strain. They say they're prepared. Plus, we know the league has to return 8% of last year's salaries from an escrow fund for coming in lower than the [2010-11 salary] cap. That's another $26 million to the guys to help them if the paychecks don't start coming Nov. 16."

What role will NBA superstars like Kobe Bryant and LeBron James play as this moves forward?

"They've been deeply involved in the meetings we've had. I know Kobe is intimately involved in interfacing with colleagues and sharing in a pool of revenue to help the others get through this. Kobe has volunteered to do that in the event others need, he and others are prepared to loan money if necessary."
Now y'all know Vanessa Bryant is gonna have something to say about these "loans". But kudos to the fellas for helping their colleagues stand in solidarity.
Source: http://theybf.com/2011/09/20/kobe-bryant-lebron-james-ready-to-hand-out-loans-to-nba-ballers-during-the-lockout
Laura Prepon Lauren Bush Lauren Conrad Lauren German LeAnn Rimes Leeann Tweeden