Jill Zarin, Alex McCord, Kelly Bensimon and Cindy Barshop have all been let go from The Real Housewives of New York City cast, according to a Bravo source.
Rumors about the casting change began last week amid reports that Zarin, McCord and Bensimon were fired from the show. At the time, their reps denied it.
Looks like there was obviously some truth to it, sadly.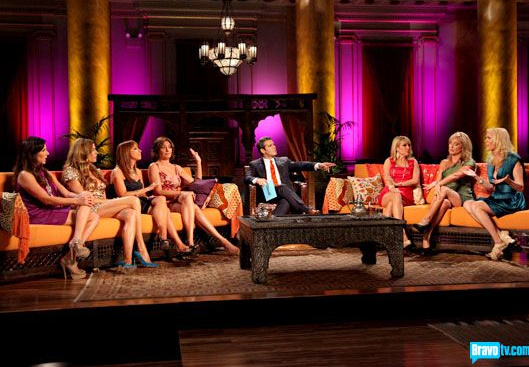 "Ramona Singer, Sonja Morgan and LuAnn De Lesseps will be returning for Season 5 of The Real Housewives of New York City," a network spokesperson said.
"We've had a fabulous run with all the ladies and appreciate them sharing their lives with our viewers. It is a friendly departure among the other ladies."
"We continue to have on-going discussions with them."
Whatever the hell that means. McCord told People:
"Of course Simon and I are sad not to continue with RHONY but it's a friendly decision and discussions with Bravo are ongoing for other projects."
Zarin's rep said: "Jill is humbled by the extraordinary amount of media interest in her response and looks forward to personally opening up about all of this very soon and announcing some exciting new projects."
Jill was the first to really tease her departure this fall.
Bensimon, meanwhile, said through a rep that she was still negotiating her contract. Even if she were to return, it'll be a new-look RHONY.
When Season 5 airs, Countess LuAnn and Ramona will be the only original cast members returning. That leaves a lot of open, snobby slots to fill.
To you agree with the decision to fire Jill Zarin, Alex McCord, Kelly Bensimon and Cindy Barsho? Sound off in the comments below ...
Source: http://www.thehollywoodgossip.com/2011/09/confirmed-the-real-housewives-of-new-york-city-fires-jill-alex-k/
Mia Kirshner MÌa Maestro Michael Michele Michelle Behennah Michelle Branch Michelle Malkin