Cassie spent the last couple of days filling in for Rocsi on "106 & Park." On Friday, she got into her B-Girl stance (in honor of Freestyle Friday) and tended to her hosting duties. She also dished on her upcoming singles and her vocal coach (Thank You Jesus).
Pics and video inside...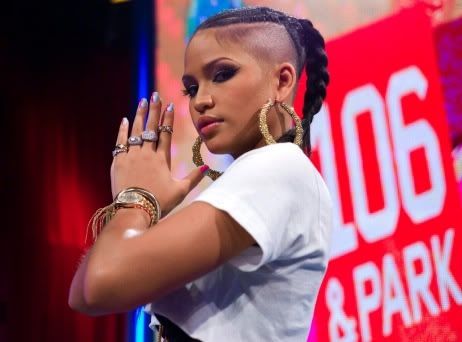 With a ponytail and shaven sides, Cassie threw on her sweats and crop top and gold jewery to host "106 & Park" Friday.
Oh ok Terrence. Somebody's been getting beefed up in the gym with a extra crisp lining. Let me find out....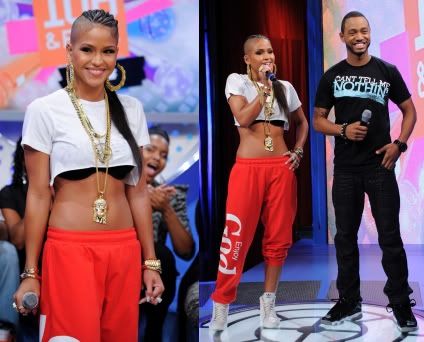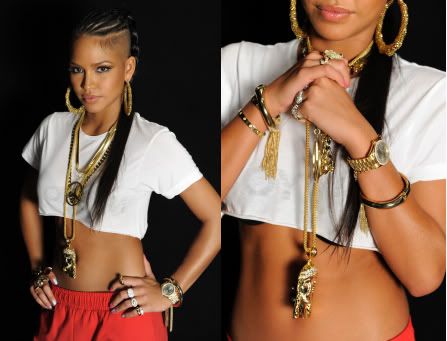 Cassie's model self revealed on Thursday during her first day of hosting that her new single, "King od Hearts" off her album Electro Love, will drop in October. She also has mixtape singles with Jadakiss, Mobb Deep, and Fabolous.
"I don't want to call it dance 'cause it's not dance, but it has a dance vibe if you want to say that. If we were in this room playin' it right now, everybody would just be hanging from the lights."

"[I've been] working with vocal coaches, working really, really, really hard 'cause this is really important to me and I have a lot of great records that I'm excited for everyone to hear," she said.
And here's video from her first day of hosting. She tweeted:
Whew!!!! Hosting is not easy. I give it up to @terrencej & @rocsidiaz !! For real :) :)

Thank u 2 BET, @terrencej & everyone @ 106th & Park 4 being so amazing 4 the past 2 days. I hope 2 be back soon now that we broke the ice :)
Cute looks for Cass.
Source: http://theybf.com/2011/09/17/cassie-hits-106-park-for-day-2-talks-vocal-coach-new-music
Adrianne Curry Adrianne Palicki Aisha Tyler Aki Ross Alecia Elliott Alessandra Ambrosio