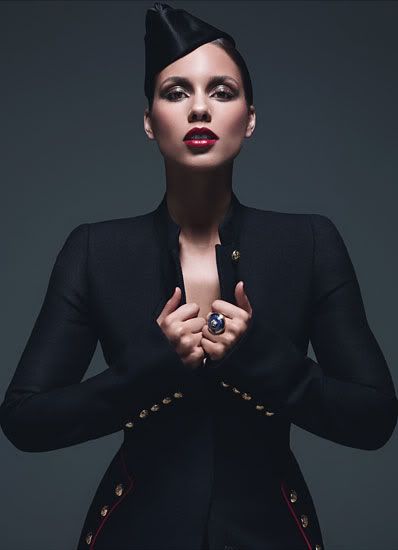 In the June 2011 issue of W Magazine, Alicia Keys reflects on the ten-year anniversary of Songs in A Minor and why she's glad she never compromised her artistic integrity.
Above, Alicia wears an Alexander McQueen wool jacket, Ellen Christine hat and Versace ring.

In the latest issue of W Magazine, Alicia Keys reflects on her entry into the music business saying,
"I just wanted to be who I was, which was like so many other girls I knew. We grew up in the city, had a hard edge and obstacles to overcome, but we were still young and beautiful. I didn't want to be all dressed up, all made up—I wanted to be myself, which hadn't been done before."
So that explains why the Alicia Keys we met in the "Fallin'" video looked like the girl next door. Someone we all could relate to.
Alicia also said she didn't want to be controlled by the opinions of her handlers. She continued,
"I was a young girl with very strong ideas but no experience. I just knew that everything else I was doing was wrong—that all the suggestions weren't what was in my mind, they weren't what it was meant to be."
But she trusted her gut instincts and with 10 million records sold, it all paid off.
"How terrible would it have been if I had come out with some watered-down version of who I am? People fell in love with the real me, and I still feel blessed that that was how the journey began."

More pics from the spread:
Alicia got dripped in red nails and lips.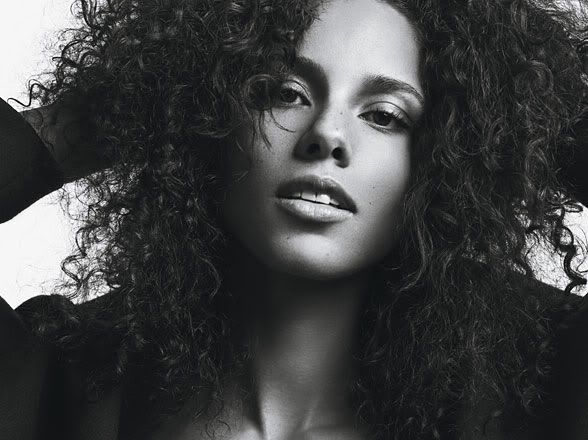 The "Butterflies" singer rocked an Alexander McQueen navy wool coat.
Photos by Mario Sorrenti/Makeup Aaron De Mey for Lancôme/Styled by Alex White/Hair by Didier Malige for Frédéric Fekkai/Nails e by Yuna Park/
Source: http://theybf.com/2011/05/28/magazine-fab-alicia-keys-thanks-fans-for-fallin-in-love-with-who-she-really-is
Trista Rehn Tyra Banks Uma Thurman Vanessa Hudgens Vanessa Marcil Vanessa Minnillo