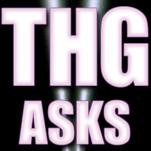 Welcome to THG's new feature, in which two of our celebrity gossip experts debate topical issues in the entertainment world and you decide who wrote the winning argument!
Today, THG Asks: Does Miley Cyrus deserve the criticism over her infamous bong video?

YES by Hilton Hater
Legality does not equate to morality. At age 18 and partying in California, no one can argue that Miley Cyrus wasn't within her rights to smoke salvia out of a bong.
But is that the only criteria by which we judge celebrities, whether or not they can get arrested for an act?
Miley isn't stupid. She's aware that cameras follow her around and that her fans are mostly young girls. In exchange for the popularity and money she's earned in her career, is it really too much to ask to refrain from harmful acts in public?
The law isn't the issue here. It's the impression Cyrus gives off. Heck, she could star in an adult film tomorrow and police couldn't do a thing. But would supporters back this decision, as well, simply because Miley isn't violating any laws?
NO by Free Britney
Some people, including my colleague Hilton Hater, have it out for Miley Cyrus. They scrutinize everything she does until they find something to whine about.
Surely Miley could be smarter about some decisions. That makes her no different from any teen. In this case, though her actions were harmless and LEGAL.
What youngster doesn't experiment in their formative years? People quick to bash Miley should look in the mirror, and be thankful she isn't doing much worse.
Just because she's a star doesn't make her a role model 24/7 (parents need to step up if kids really think this), and even if it did, this wouldn't be THAT bad.
The only real question here: How's the view up there, Bill O'Reilly? Like what you see, Dr. Drew? Hilton Hater? Wonder what it's like to sit atop such a high horse.
THG Asks you ... does Miley deserve criticism? Who won this argument?
Source: http://www.thehollywoodgossip.com/2010/12/thg-asks-does-miley-cyrus-deserve-criticism-over-the-bong-video/
Ashley Tappin Ashley Tisdale Asia Argento Aubrey ODay Audrina Patridge Autumn Reeser